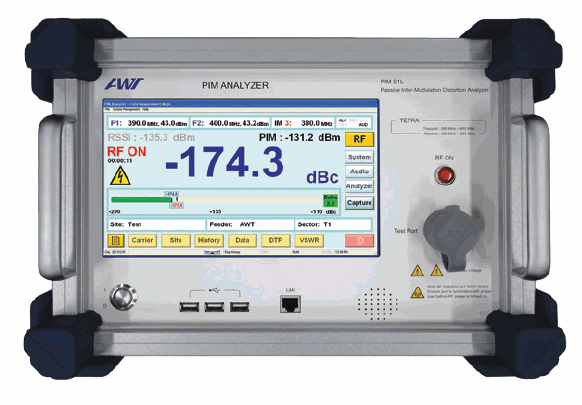 PIM S1L MK2 Analyzer TETRA & UHF
​
The PIM S1L MK2 Analyzer - TETRA UHF deliver constant CW power signals during PIM measurements and are fully conform to PIM specification IEC 62037.
They provide diverse opportunities of test modes:
​
Field Mode, Analyzermode, Mulit PIM Display, Sweepmode, PIM vs. Time, Single Carrier for insertion loss (IL) and have the following characteristics:
​
high PIM sensitivity: -165 dBc @ 2 x 43dBm Träger

data recording: CSV, PDF or BMP

output power adjustable: 2 x 16dBm to 44dBm

embedded DTP option (Distance to PIM, DTF and VSWR [optional])

large 10.2" touch screen display
​​
Models
TETRA 400 Tx Range 390 ~ 400 MHz / Rx Range 380 ~ 385 MHz

E-TETRA Tx Range 420 ~ 430 MHz / Rx Range 410 ~ 412 MHz

TETRA 385 Tx Range 385 ~ 400 MHz / Rx Range 410 ~ 425 MHz
​
PIM S1L TETRA & UHF analyzers are important tools for analyzing telecommunication
infrastructure, like antennas, cables and components. They are ideal for component testing
in laboratory and quality assurance, but are also valuable field tools, providing vital test
results in TETRA & UHF networks. Specifications and measurement accuracy are exceptional
and of PIM S1L analyzers deliver reliable results. They are very easy to operate; just the
touch of a button to start predefined tests.